Container Refrigeration can organise the transportation of containers from our O'Connor-based yard to your drop-off point if it's in certain locations in Western Australia.  
When organising transport you need to choose which truck type will be best suited to your site. The three options which are explained below are Tilt Tray, Side Loader and Hiab. It is important for you to read the below information before we organise your container transport. If you need any help don't hesitate to contact us on 9335 6299
It's important that there are no obstructions at the delivery site
Solid ground is preferable not sandy, as soft ground can cause truck to get bogged
Ground must be level
Ensure no overgrown trees are in the way
Minimum of 1m clearance from power lines
Observe council regulations by having the container placed away from public utilities, storm drains & space from the roadside
If Refrigerated and placing near a wall. The refrigeration unit requires a minimum 1.2m gap for airflow and service access.
Doors loaded to face the CAB 
Doors to the REAR of the truck.
You will need to assess the site location and work out which way the container should be loaded, to ensure you are not charged extra time for re-positioning. If facing doors towards a wall, we recommend placing 1.2 metres from the wall.
Tilt Tray
Tilt Tray unloads containers by reversing into position then tilting and lowering the tray to the ground. It gradually allows the container to slide off the rear as the truck slowly moves forward. This is the smallest and cheapest type of transport, also it is the best method when there is plenty of space in front of where the container is going to be placed.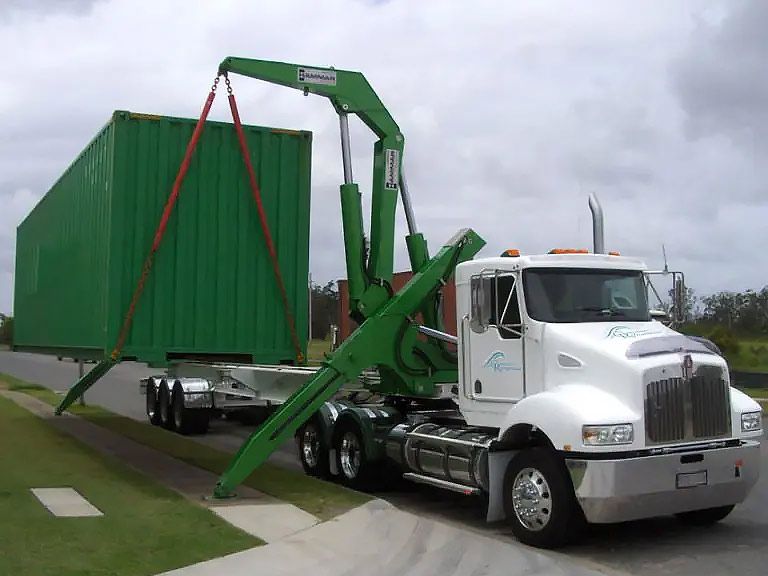 Side Loader
A Swing Lift / Side Loader unloads containers off the Drivers side of the truck (Right hand side when looking from the rear). Customers will need to ensure they allow for enough room to accommodate the width of the truck and container.


HIAB
Hiab trucks use a crane mounted behind the cab to lift the container into almost any position. This is the most accurate in terms of placement, and better for tight locations. Requires no overhead obstacles which will get in the way of the crane, like trees, buildings, awnings etc. Hiab also requires flat surface to setup its support arms, it cannot be setup on any steep hills.
20' Clearance Req: Height 5m, Width 3.5m, Length 20m
40' Clearance Req: Height 6m, Width 3.5m, Length 40m
20' Clearance Req: Height 5m, Width 3.5m, Length 20m
40' Clearance Req: Height 6m, Width 3.5m, Length 40m
20' Clearance Req: Height 5m, Width 3.5m, Length 20m
40' Clearance Req: Height 6m, Width 3.5m, Length 40m